This month's oddball tip:
Tinder - I don't recall where I heard of this trick, but it works. The single best sort of fire-starting tinder I' ve tried is simple dryer lint. Heck, you have to clean the stuff up in your laundry room to prevent it starting fires. Just save it up in a small, waterproof container for camping trips, or even the fireplace in your den.


Buy my book!
Email: I don't know if Mailvault is officially dead now, but since I can't reach the site, I assume the worst. You can now reach me at improv_df@graffiti.net. This also means the old Mailvault PGP key is dead; please use my conventional PGP key.
Whoosh today, boom tomorrow:
Rocket-Propelled Whatsit
This is the first of a three-parter: We're going to start by building a rocket motor. Part two will cover fuselage, and part three will detail the launcher. If you liked last month's little toy RPG, you'll love this project.
Materials
As always, you need to gather up the ingredients:
Potassium Nitrate
Charcoal
Sulfur
4 inch cardboard tube
8 finishing nails
plaster of paris
alcohol
If you're a regular reader, you likely already have all this on hand.
Putting it together
Start with the cardboard tube. It needs to be sturdy; if you can crush it between your fingers, toss it find something else. Try the core tube for roll roofing, tar paper, or carpeting. Your tube should be 6 inches long.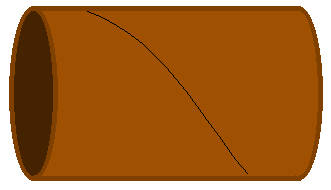 You're going to completely cap off one end with a plaster plug. To reinforce the plug (and make sure it doesn't pop out), install four nails around the end, at ninety degree intervals, and half an inch from the edge.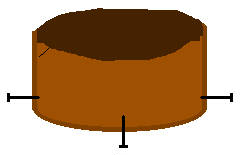 That done, mix up some plaster, set the tube on end (nail end down), and pour the plaster one inch deep inside the tube. The nails should be completely covered.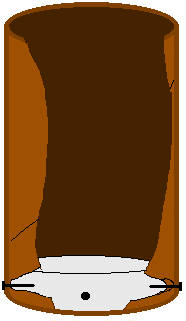 Let the plaster set, and dry completely overnight.
Because a later stage could get the plaster wet again (and possibly violating its integrity), consider giving the dried plaster cap a coating of epoxy or varnish. "Protect-it" acrylic varnish, available in crafts stores is good.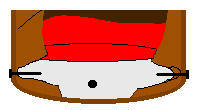 Rocket Science
This is a solid fueled rocket motor based on ordinary model rocket motors, just like we played with last month. This one is going to be just a little bigger, obviously. The propellent is good old blackpowder.
As always when working with potentially explosive materials, use nonsparking tools; preferably nonmetallic.
With mortar and pestle, grind ten ounces of potassium nitrate to a fine powder.
Likewise grind two ounces of charcoal.
If your sulfur isn't already a fine powder, grind it too.
Mix the powders together.
Drip in the alcohol to make a thick batter. Mix very well. As the powders absorb the alcohol, and as the alcohol evaporates, the batter should thicken.

You really shouldn't breathe the alcohol fumes; ventilate well.

Continue stirring (and evaporation) until you have a thick, sticky dough. If you used a little too much alcohol, you may need to let it evaporate overnight.
You're ready to load the propellent into your motor casing. Press the dough firmy into the cardboard tube. Don't leave any gaps or bubbles. Pack it flat. Let's avoid any unanticipated booms; press the blackpowder dough in firmly but gently. Don't pound it in. If you use a mechanical press (like an arbor press), apply pressure slowly to avoid friction heat build up.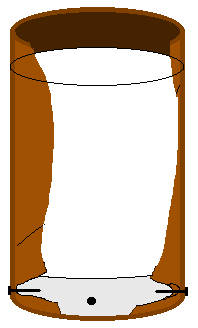 Leave it overnight to finish drying. All the alcohol must evaporate off before the next step.
How exhausting
Once the alcohol has completely dried, it's time to cap off the remaining motor casing end, and provide an exhaust nozzle. The idea is to contain the gases from the burning propellent and channel them in a single direction for thrust.
Just like the first end, start by placing some reinforcing finishing nails.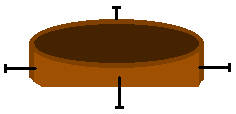 But this time, before you pour plaster, you need to allow for the exhaust hole/nozzle. At the exact center of the opening, right on top of the solid propellent, place a half inch dowel, or a half inch (outside diameter) segment of thinwall pipe. When you pour the plaster around this, the dowel/pipe will create an escape hole for exhaust gases (once removed, when the plaster dries of course).
Whatever you use to mold the hole, it must be straight, and perfectly aligned. If the hole points off to one side at all, the exhaust goes that way, and your rocket won't fly straight. If you must, check the alignment of the pipe/dowel with a level, and brace it till the plaster dries.
You should end up with this: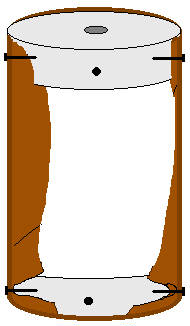 Next month: Rocket body
---
Letters:

Rating = Excellent
General Comments = Does the skyrocket require a fast-burning powder? Or will just about anything do?
I used Bullseye pistol powder, but anything should work.
---
Send questions to:
The Improv
Encrypted mail preferred.
Please use my PGP public key.
Unless requested otherwise, all letters may appear in Doing Freedom!.
Support The Improv with an e-gold donation

-----BEGIN PGP PUBLIC KEY BLOCK-----
Version: PGPfreeware 6.5.8 for non-commercial use 

mQGiBDjOdmcRBAD+7JYVs1aTC4ebMknplBSPLl/zYOjoc1g7vnpKw1eGoNIfgYwu
ew6J2TsMbfnIa6G5QYJ/K6NhRicLJdb7pgwoOXBTBwJKlHQqOB3BC3n7UBeuxHbm
CHVGvql9miEF0bYULnhQUbKyV/KezM1X0wBcDkjkTQOjYyiJY2vZEfP7DQCg/x+B
oGxZSYWgdv6BuvWA3YXT7IcEANmBz0llMEhWMDiICoPQxsGwPbaGYFsa8VMvD8eV
IKgw8kk91Zh9Nui/04XqMVUX+NnVhbPNi93HFeJcGU8XZ/VEBSId8+uUcNlAeRZX
TdIml5CZUrPRPPTM0bRWhqkm5nnTpwUJGoxJap2yzSIm7ncDJEF2tzHb0ypsFcmr
VAqVBACR5WvGnfzGlOIgGzB8Ebtvysyrqlp+U0SxEOACVNlE66pW8BkBmAOCQd82
/I8JohpafMwEbCvnBeqbBUs6K69FoOqeTTx5KUeWsctzhJQACze4HlQAS9f5V0Qm
oPlR8P3DmzbwBej22+ov6c5W1AtFpsvhESHYvzQqdzew/KEJA7QiVG9tIFNwb29u
ZXIgPGltcHJvdkBtYWlsdmF1bHQuY29tPokASwQQEQIACwUCPjF5jgQLAwIBAAoJ
EBPxgQhFCV1R8sEAnRBpAw6IFJ2PA/dQujHYWWl2zZICAKDi2tPJ5UFvBjRS/+GL
EOFbXVru9LQkVG9tIFNwb29uZXIgPGltcHJvdl9kZkBncmFmZml0aS5uZXQ+iQBL
BBARAgALBQI/MnRYBAsDAgEACgkQE/GBCEUJXVHEQwCeIo/uLZ9XkF21AqywlxAa
tIAaQdIAn0ejXGcXmhQ5v8lKmTxLl8dFwxZxuQQNBD4k+OAQEAD5GKB+WgZhekOQ
ldwFbIeG7GHszUUfDtjgo3nGydx6C6zkP+NGlLYwSlPXfAIWSIC1FeUpmamfB3TT
/+OhxZYgTphluNgN7hBdq7YXHFHYUMoiV0MpvpXoVis4eFwL2/hMTdXjqkbM+84X
6CqdFGHjhKlP0YOEqHm274+nQ0YIxswdd1ckOErixPDojhNnl06SE2H22+slDhf9
9pj3yHx5sHIdOHX79sFzxIMRJitDYMPj6NYK/aEoJguuqa6zZQ+iAFMBoHzWq6MS
HvoPKs4fdIRPyvMX86RA6dfSd7ZCLQI2wSbLaF6dfJgJCo1+Le3kXXn11JJPmxiO
/CqnS3wy9kJXtwh/CBdyorrWqULzBej5UxE5T7bxbrlLOCDaAadWoxTpj0BV89AH
xstDqZSt90xkhkn4DIO9ZekX1KHTUPj1WV/cdlJPPT2N286Z4VeSWc39uK50T8X8
dryDxUcwYc58yWb/Ffm7/ZFexwGq01uejaClcjrUGvC/RgBYK+X0iP1YTknbzSC0
neSRBzZrM2w4DUUdD3yIsxx8Wy2O9vPJI8BD8KVbGI2Ou1WMuF040zT9fBdXQ6Md
GGzeMyEstSr/POGxKUAYEY18hKcKctaGxAMZyAcpesqVDNmWn6vQClCbAkbTCD1m
pF1Bn5x8vYlLIhkmuquiXsNV6z3WFwACAg//WHI3f6iagPOGgxJKOHMW6uoHu6l5
/ZPLNc+HtOHMSikrTQUaCi1GTavS/wOswEBwL9tbWBbkfIsKvZztj2NtbBaLUffw
9aTc4C1+erlyxU5JNafwDx2cxzbuArzGaAmymBItwQOny98L7fakW/AKj1KnQk+n
LFLZej3IrxhveE8yPg+QCqzVhbg2Q1kMGXMLU3Rimyukscx+K+NyINdYEhovs+mn
TOCcFIKVmtKtqHGVF6v9rAHfcOR8PoNthj59HFVERvzEsDytgir7SnIqOSfDVIsP
LRFM7ZFFL2ugunFNHyrvaX4qFZ1DG1FGpvtO06Zw4LfMRTJ5ESJTL6YcBJAE9faI
XO6kJoPRQu/7tqfHTD5Jg+7DpSgIFfVUXO7FSv8kY2TkHRWY9DtrkeK/aM47dQFI
CiD0D4/QUtQR79HwHPtIANSO+fb5/foCgCLF3y5SGTj4lA81o0qBVgKZVW6AsdSy
dnfafxJUGa9/Tkc7mb5cmuBH5aS0lqNW/W5oGHdapKH+AvvSGwSOU8qXu4FpmiOF
ITM/8o1aViNpNEM9u3cXYf1uSbI/m1C9kNz2Jx7TzdvEZmjvZ8U0v4YboxzoYu/n
4yKQwSW74iohytmYJCHyIwh+V/r2gALQ6teE5+a/fraBTZtVKDPQrqLtpIyQrqUO
lIh3wxvreLtEMc+JAEYEGBECAAYFAj4mH9YACgkQE/GBCEUJXVGRegCfU+50Y+Ri
8N1uWJO5Y3PJplqLUk0AoJwH4foCSu84mX/RqkMSGQHjkXK8
=++DI
-----END PGP PUBLIC KEY BLOCK-----