The long arc of evolving technological, economic, and geopolitical factors that have determined exploitation of oil and gas since the mid-19th century has now clearly entered the hydrocarbon resource pyramid's base—the end game is on.
The resource types are few but enormous; their exploitation massively capital intensive with subsurface technical complexity and unprecedented aboveground socioeconomic challenges.
—Oil & Gas Journal, Sept. 3, 2012


New expanded 2nd Edition of
Bearden-Bedini book released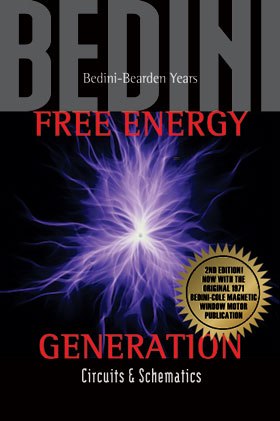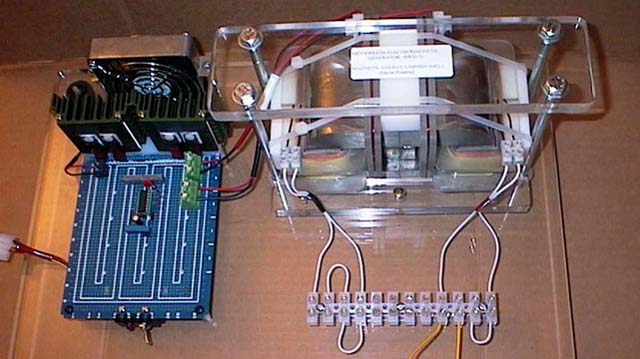 The Motionless Electromagnetic Generator (MEG)
Has produced up to 100 times more power than was input, by extracting free energy from the vacuum. The MEG has been independently constructed, and its overunity performance independently replicated, by other researchers. US Patent awarded March 26, 2002. Invented by Tom Bearden and four colleagues.
". . . maybe, just maybe . . .
March 26, 2002 will be the date I put in my diary as the day the world changed—forever."
Nick Cook
The Hunt for Zero Point
U.S. Edition, 2002
FACT
The MEG's development was funded entirely by the inventors' savings and a few modest donations.
America's civilian nuclear technology cost a total of a trillion federal dollars yet delivers less energy than wood. The Economist says of nuclear power plants that "not one, anywhere in the world, makes commercial sense."
Hot fusion research has received billions of dollars of Government money for over 50 years, AND HAS YET TO PUT A SINGLE WATT OF POWER INTO THE GRID.
"There are at least 20 or more legitimate overunity EM power systems by various inventors and researchers in the U.S. alone"—Tom Bearden

But free electrical energy is nothing new

U.S. Navy, General Electric and Stanford University used free energy system in 1930s. Network Analyzer was completely self-powered by negative resistors




imagination at work



GE's Gabriel Kron,
Chief Engineer
on the project
Westinghouse patented overunity process on Minuteman missile in 1960s
PETITION THE PRESIDENT AND CONGRESS TO DEPLOY THESE PROVEN FREE ENERGY SYSTEMS WHICH WERE FUNDED BY THE U.S. TAXPAYER AND ARE ILLEGALLY SUPPRESSED.

Suppression of free energy technologies violates Article 1, sec. 8 clause [8] of the U.S. Constitution which mandates the progress of science by disclosure of discoveries after a limited term.


Tom Bearden differentiates between the MEG and "perpetual motion machines"
for Scientific American's readers

"We note that a single replicable experiment can and does negate any theoretical model that contradicts it"




ATTENTION POWER GENERATION INDUSTRY: The Bohren Experiment produces 18 times more energy than is input (in the accounted Poynting flow), any time or place it is performed—it can readily be developed to produce excess clean heat for power generation.
The Kawai overunity magnetic motor can be built exactly from the Patents using high-speed switching. Teruo Kawai held nothing back in the Patents. Motor will also self-power (close-loop).
Any electrical engineering department can build a successful magnetic Wankel engine, since its principles are already in electrical engineering. The motor simply eliminates its back mmf, so that it continuously accelerates and can power a load with only some switching and control input. It is also easily close-looped, to make it totally self-powering.
National Science Foundation letter to Tom Bearden
"There is a uniform support for your out of the box thinking about conventional models and mathematical approaches."
—September, 2005
Newly developed Grand Unified Field Theory by AIAS Director Dr. Myron Evans provides solid mathematical grounding for the extraction of free EM energy from the scalar curvature.


"Classical" EM Theory does not.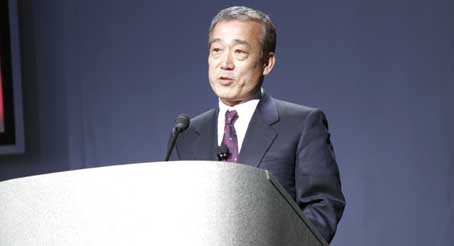 HONDA CHAIRMAN TAKEO FUKUI
"Even the best internal-combustion engines still waste more than 80% of the energy created by burning gasoline."

—Reported in Wall Street Journal
July 25th, 2005
"Plug-in hybrids ..... can be best described as a battery electric vehicle equipped with an unnecessary fuel engine and fuel tank."
—Reported in Wall Street Journal
October 25th, 2007
JUST RE-PRINTED

Howard Johnson's 1970 Classic 54-page book
"The Secret World of Magnets"
"Discovering Magnetism"

—in color—

BUY THE DVD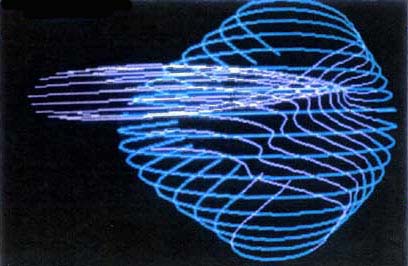 Precisely arranged, a permanent magnet can be induced to briefly fire a force about ten thousand times more powerful than the direct magnetic interaction. Harnessing these inexhaustible powerful pulses can produce a permanent self-powering magnetic motor. Howard Johnson spent a lifetime researching this phenomenology.
---
New Low Price!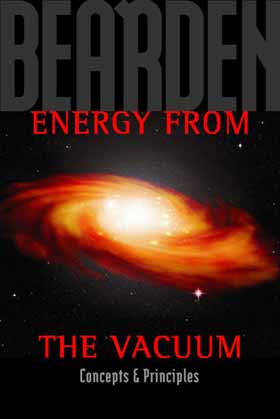 Tom Bearden's 2002 blockbuster
977 pages—now in its Third Printing
"Energy from the Vacuum - Concepts & Principles"
The world's first textbook that corrects the errors in the foundations of science to validate the production of free energy from the vacuum.

30 years in the making – over 40 free-energy embodiments discussed
".... sufficient information has been released for any competent laboratory team to replicate a version of the MEG."
Learn the forbidden secrets of the mysterious "negative energy" which freezes connections when shorted out.

Read the reviews


"This remarkable book with its descriptions of many over-unity devices is expected to become a bible of new-energy information for a new generation of energy scientists and developers. Bearden's life's work of investigating the sources of and the control of space energy is detailed in the eleven chapters of this important volume. Every person who is involved in, searching for, or developing energy sources should have this book to study and retain as a reference."
—Hal Fox, Editor
Journal of New Energy

FACT: Energy from the Vacuum is NOT zero point energy, since the latter is an observable state and the vacuum energy is nonobservable.
---
June 2000:
The source charge problem—"the most difficult problem in classical and quantum electrodynamics"*—solved by Tom Bearden.
*— Prof. Emeritus Dipak K. Sen,
Dept. of Mathematics,
U. of Toronto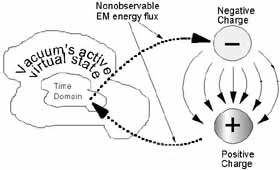 ---
DECEMBER 2015
JUST RE-ISSUED
TOM BEARDEN'S 1984 BOOK
"STAR WARS NOW!"
New 2nd Edition has a Forword by Dr. Steven M. Greer
Head of the Disclosure Project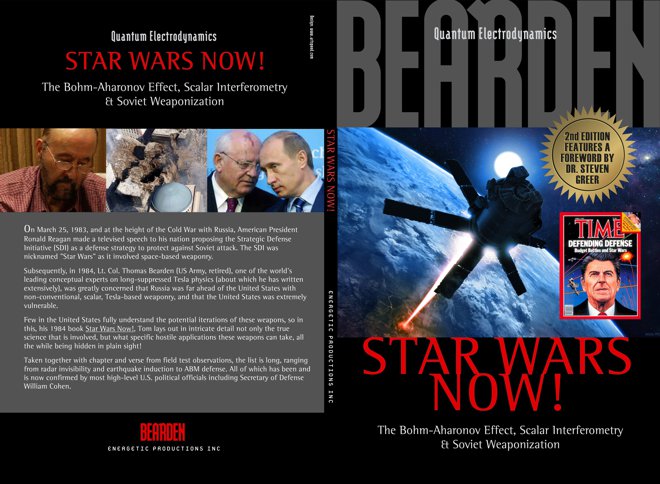 ---

CONTINUE ON TO PAGE 2
(weapons and EM healing)

Table of Contents of Website