Weapons content of this film is minimal, but it's a mostly true recounting of the last months of one of the most significant espionage cases in American histoOry. Robert Hanssen was an FBI Special Agent who, while working counterintelligence against the Soviet target, spied for the Soviets. For 22 years, before being caught (he's now one of the guests of honor in Florence, Colorado's Supermax, where he lives out his days in solitary confinement).
Hanssen's motivations were a complex stew of greed and ego; his feelings were hurt that other agents were promoted ahead of him, and he got a sick thrill out of leading an inquiry into the possibility of a mole — an inquiry that would never find the mole, because it was him. 
Breach hit the screens without much impact at all.  Which is a pity, as it's a tense, psychological drama with deep and, sometimes, puzzling characters. There's a good bit of tension there, as the FBI closes in on its rogue agent, while at any time the rogue may learn the jig is up. He has two ways he can beat the FBI: by dropping out of espionage before they have enough admissible evidence to convict him, a concept he naturally understands perfectly, or by running a ratline he has asked his handlers to prepare for him.
Acting and Production
The actors here go the extra mile to sell their characters. One small example is the way that Chris Cooper as Hanssen is so intense that, walking down the corridor with a junior officer, Hanssen tends to walk him into the wall, quite unconsciously. In the excellent add-ons on the DVD (of which more below), Cooper's immersion in this deep, strange, and mysterious character is discussed at some length, but on the screen it's just a rocking performance, the best in the film, maybe a career best by the underrated actor.
Laura Linney is especially good in a key supporting role as an FBI supervisor so dedicated that she has sacrificed any hope of personal happiness in pursuit of her vital mission. But the way this is exposed is brilliant: when an agent working for her is having problems with his wife, she snaps: "I'd offer you some advice, but it wouldn't be worth much. I don't even have a cat." She delivers the line with just the right blend of anger (she has a good reason to be angry at the agent, who has just screwed up) and bitterness, and the director and writer use it as a transitional moment. This is one example of the way the writer and director often choose to show the audience rather then tell them; to deliver important facts and enriching details in a sparse, telegraphic manner.
An even smaller FBI agent role goes to Dennis Haysbert (now the Allstate Insurance pitchman with the deep voice).
There are no surprises from Haysbert's character, but the actor brings his trademark gravitas to the part and was a great addition to the film.
Unfortunately, two parts of the production of Breach are far below average. The first is the cinematography, which is extremely dark in 21st Century fashion. Every single one of the screenshots here had to be lightened, or you might not even see the actors or the objects. Some of them had to be lightened a second time (the shot of Linney, above) and some couldn'r really be saved with our image enhancement skills (Haysbert).
The second failure is a surprising one, because it's one that in most films tends to be so good it's invisible: make-up. Chris Cooper's make-up as Hanssen is positively dreadful, and makes one wonder if the producer hired a bibulous mortician by accident. Ryan Phillippe as Eric O'Neill also suffers from obtrusive face paint.
In addition to these, there is one gratuitous, political jab that makes a jarring and incongruous entrance in unrelated dialogue, perhaps thrown in as a Hollywood virtue signal by the writers.
One thing the producers deserve thanks for is the excellent array of special features on the DVD. These include a number of scenes that were cut, primarily, we think, for pacing. By and large the scene cuts were appropriate but having them on the DVD was enriching.
The menu is visible to the left, and we watched each and every one of them and enjoyed them. The Dateline NBC news story, The Mole, is first class, as is Anatomy of a Character, describing how Chris Cooper brought a frankly repulsive, contradictory, and fatally flawed character to life.
Accuracy and Weapons
As you might expect for a true spy story, there is no gunplay, but that's not the same thing as saying there are no guns. Hanssen has a seeming love-hate relationship with guns and with the FBI's gun culture. Being able to hit a target is a skill that he's contemptuous of, even as he warns a young agent that the FBI is a shooting culture and you will be judged by your shooting skill. Indeed, even senior executives are prone to impromptu shooting matches in the Hoover Building's basement ranges, competing for small wagers or bragging rights.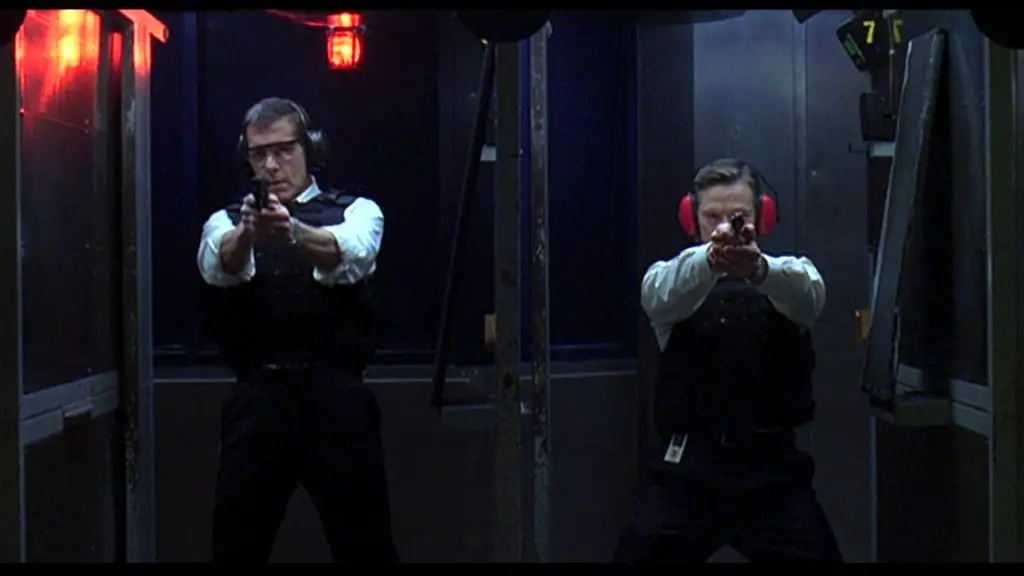 A plot point turns on this.
Later, the scene is reprised, darkly, with Hanssen and another character.
Of course, Hanssen's treachery has fatal consequences for Soviet traitors whose identity he learned, and sold back to the USSR. They are walked down a corridor to a meeting… with destiny.
And Hanssen was very prepared for things to go non-linear in his life. As a glimpse in his trunk indicates (AK, 2 G36s, MP5K, AR-15 (A1 style) w/203, and CAR-15 (under the AR):
As it happened, he did not reach for the guns when Bureau agents moved in with overwhelming force, catching him red-handed at a dead drop. Apart from the arsenal in his trunk, he was unarmed.
The accuracy of the tradecraft Hanssen uses to pass intelligence information, and that the Bureau uses to surveil him and build their case against him, is quite good, even though it is generally a background to the human story.
The bottom line
Breach is a powerful character study of a character who remains a disturbing enigma, almost 20 years after his exposure. It was a tough movie to make, especially to make while staying true to the source material — the History v Hollywood link below shows the departures made for the sake of drama, which were many but, mostly, small. But it also does something few movies so, shows the price that many people in the intel and CI world pay for their service.
At one point, Eric O'Neill asks his supervisor, played by Laura Linney, "Is it worth it? Being an agent?" and Linney makes a long, introspective, pause before answering, "Ask me when it's over."
There's nothing in the film that says he asked her, or if so, what she said. But it's a matter of record that the real Eric O'Neill ceased his pursuit of his dream of a Special Agent job, and resigned from the FBI… in his own way, he was a casualty of Hanssen's treachery, also.
For more information
These sites relate to this particular film.
Amazon.com DVD page (version we reviewed):
https://www.amazon.com/Breach-Widescreen-Chris-Cooper/dp/B000OYAT3U/
Alternative, streaming version (seems overpriced):
https://www.amazon.com/Breach-Chris-Cooper/dp/B000RVP7YQ/
Alternative, 4-spy-movies-for-$5 (w/o the DVD extras, and maybe with worse compression):
https://www.amazon.com/Movie-Marathon-Conspiracy-Collection-Circuit/dp/B01CQOVHCW/
http://www.imdb.com/title/tt0401997/
http://www.imfdb.org/wiki/Breach
Rotten Tomatoes review page:
https://www.rottentomatoes.com/m/breach/
https://infogalactic.com/info/Breach_(film)
History v. Hollywood page:
(It's not on HvH but the same thing at a partner site):