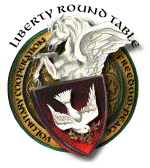 Mmmmm, Pound Cake
Report on the 2003 Liberty Round Table conclave
by
Sunni Maravillosa
Believe it or not, that's what a conclave attendee said about the military's rendition of that cake -- as well as a couple of other dessert rations. Even more astonishing to those of us in on the conversation, the individual uttering this phrase placed hand on heart and looked skyward, adding emphasis to the exclamation. The happy utterance henceforth became a shorthand among some for expressing pleasure about something -- and it was frequently used with respect to this year's Liberty Round Table conclave itself.
[ ... ]
I've heard from several folks -- newcomers and regulars alike -- that this year's conclave was a great success, possibly the best so far.
Mmmmmmm, pound cake ...
The full version of this article, complete with any images and the ability
to post comments and submit feedback, is a subscriber-only feature.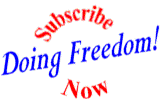 Copyright © 2003 by Doing Freedom! magazine. All rights reserved.